Aiight...
*whew*
...that was some hellacious-ass shit, right there.
Folks, we still technically haven't "gone public" with the Unicron stand. Can you believe that!? We were planning on making an announcement on
CollectionDX
, along with a video review and comparison with a Unicron.com stand! But last Thursday, someone got wind of
the noize
over at TBDX ('cause I mean,
no one
reads this blog! :P ), and posted it on Seibertron.com...and it was all over from there!
And so, here's the deal: as of last night--in a mere seven days--
we are all sold out of Unicron stands!!
I'm fucking spent! ...And my post office thinks I'm
smuggling WMDs
! HAHAHA!!
Nah, for real, though,
THANK YOU
to all the heads who've ordered a stand (or two, in a few cases). If you've just paid in the last couple days, I've got some more to ship tomorrow and hand-deliver later this month, but that's it. Everyone else, if you've paid, your stands are in the mail!
And we've already got some happy customers! Check it:
[By all means,
keep sending me pics like this
! I love 'em!]
Now, here's the deal:
I'm getting more
from my distributor. I don't know if these'll end up popping up on eBay someday, but I figure I'll nip this in the bud right now:
do not pay flipper prices for these stands
...ever. I can make more at any time...just be patient. No need to feed eBay scalpers...
So if you want a stand, you have a couple options right now: 1) you can contact me and pay for a stand now, which would *guarantee* one from the next wave, and it would be shipped immediately upon receiving them from our distributor (in a month or so), or 2) you can simply
watch the blog
for my announcement of the next wave's arrival, and just place your order then. Either way is fine me, so go with whatever makes sense for you. Or, y'know, you could go on the TF boards, curse me out, and say I'm worse than Hitler... ;)
ANYWAY...let's get down to business. Yeah,
real
news. Saucer Animal Gin Gin.
The second wave of the
Yojimbo
figures are being produced as we speak, and I expect them to arrive soon. A couple are already reserved, so I think that leaves about three left. Some heads already have theirs, and their response has been fantastic! And of course, one of the greatest honors...
the Chairman
with his Yojimbo: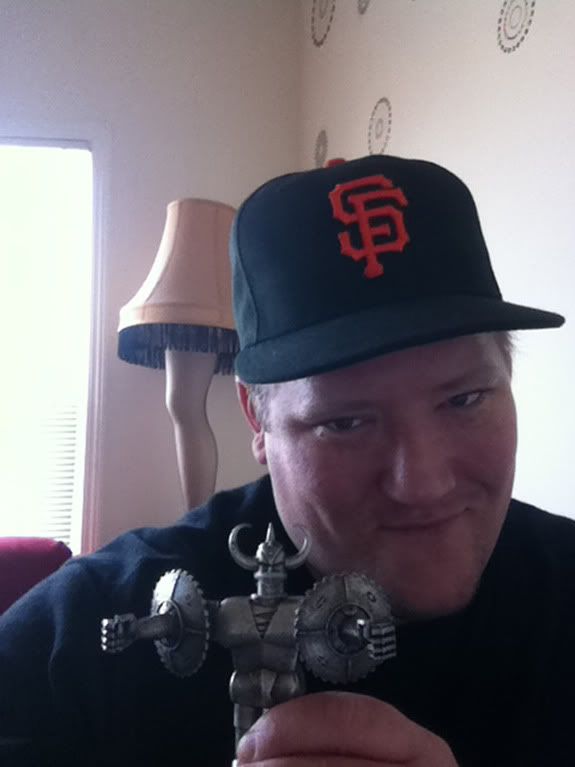 Fuck yeah.
As for the final painted Gin Gins, we're having ONE more prototype made. Yeah, another delay? No shit! Haha...sucks being a perfectionist. But then again, this is my
motherfucking baby
...and he's paving the way for many more toys like this in the future!
This time around, we're developing some extra hardware to compensate for some mold problems we saw with the last prototype (the crystal clear one I posted pics of). I'm hoping to get that prototype,
plus the hardware
, early next week...then off to the metal casters. Another week or so, and we should hopefully have final metal. The paint is ready to be sprayed and stickers ready to be applied. I'm gonna clean up the box art a little bit...and we'll be good to go (again, HOPEFULLY) in under a month!