Hey, what's popping, folks? It's
New Year's Eve
and check it: I actually have something for y'all! HA! :P
Obviously, I've been pretty anxious about getting something to release for everybody...especially before the end of the year. 2010 has sure had some fucked up
ups and downs
, but I wanted to end the decade on some
hopeful
shit.
There was a delay with the molds for the final Gin Gin figure (are you surprised! haha!) so still no final, fully-painted joints...but one small side project has turned out shockingly
sucka free
.
Check it: "
Yojimbo
" Gin Gin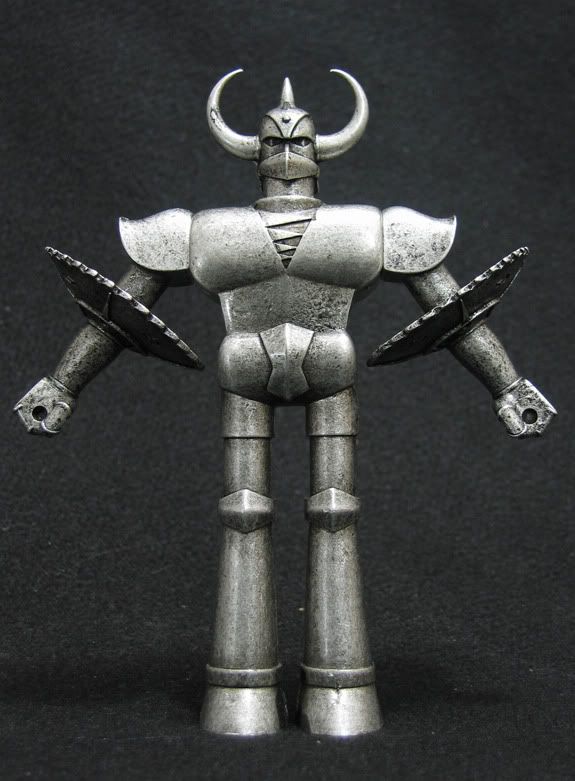 In honor of one of my favorite
chambara
of all time, Akira Kurosawa's
Yojimbo
, starring the brilliant Toshiro Mifune, this figure is a pull from an older mold featuring full
embossed/engraved
3D detail.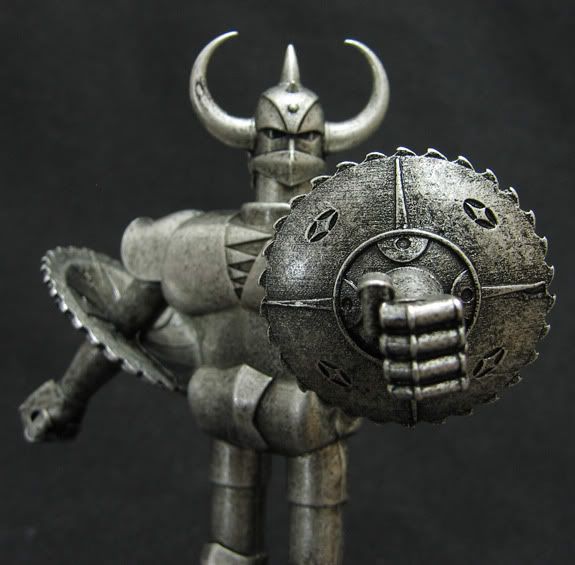 The figure is all-pewter, lead-free, and just like the final figures will have, they feature
magnetically-linked
joints. Now, pewter normally comes out of the molds a very
bright
, almost gleaming white. What the fabricator has done here is applied a special rub to the metal to "antique" it. Think some secret family recipe
barbeque sauce
-type shit! Mmm...ribs... Anyway, the finish is lacquered for protection...and I happen to think the shit looks pretty fresh.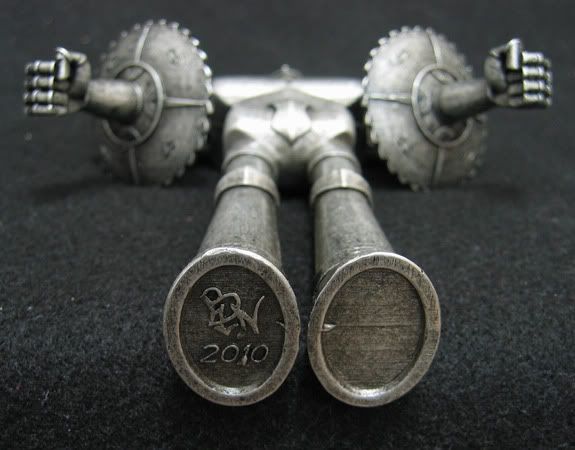 Keep in mind that the nature of the beast is such that there'll always be little cracks and crevices everywhere. These are
hand-made figures
made in the image of the classic Popy STs. I consider each of these a work of art from some very cool people I've had the honor of working with. The final fully-painted Gin Gins will have similar surface flaws, but with these "Yojimbo" joints, part of the beauty lies in
emphasizing
those flaws...
Anyway, some of y'all who're real familiar with Gorman/Gin Gin, and obviously
Grendizer
, should get a kick outta these next couple shots!
Ghosts from the past:
Punks step up to get beat down:
I wish there were a TFO in-scale with these ST-sized figures that I could show Gin Gin stepping on. Heh...I love this shit!
Aiight, so check it. This obviously isn't the "official"
final toy
. Hell, I wasn't even planning on using these molds ever again! Heads seemed down with this "antiqued" idea, so I decided to see how they'd turn out.
I'm only making
ten
of these motherfuckers. Five are ready now, but the other five will have to wait a few weeks (consider it a preorder...afterall, the final full-painted figures will pretty much be made-to-order, so
everything
will eventually be a fucking preorder).
This limited
Yojimbo
run will feature an older style of the box art that won't be printed again. Sorry--I haven't actually assembled the boxes yet, so no packaging pics...
Anyway, remember, this shit's kinda underground, y'knowmsayin? So if you like what you see, hit me up.
...
As y'all know, this is all a part of my
love letter
to ToyboxDX. The last decade's been pretty crazy, but I've made some amazing relationships with some pretty incredible people. Talented. Driven. Passionate. Creative. Without the 'DX, there would be no BN. Word is bond.
Here's to another year and another decade...where we take this
silly hobby
to another level! Go play. Peace.