Okay, a little later than I had originally planned. But, yo, things are moving really quick at the moment. It's kind of exciting! Before I get into the usual updates, I just want to mention that this is shaping up to be a big year for Brownnoize Productions. And this ain't the usual vaporware either! LOL
The collaborations on tap are gonna be off the hook. The in-house toys produced by yours truly are gonna be off the hook. Not much of a teaser trailer, I know, but I just wanted to express my gratitude to those cats who've stuck around and supported my diverse and weird efforts at making stuff people like over the past few years. You will be rewarded. But enough about that...let's get it poppin'.
I know a lot of folks are anxious to hear the latest about the "Throne of Chaos" Unicron stands, so we'll start with a quick update. The order with our fabricator was placed last week, so the first wave of stands should be touching down very soon! The support for these things has been pretty amazing...and I know the price is a bit steep for them, but once you have your Unicron sitting atop one of these stands, I think you'll agree it was well worth it! If you have any questions or are interested in ordering, please e-mail us at unicronstands at gmail dot com.
How about some Gin Gin news? Well, there isn't much I can show off at the moment, but I can say that everything at the moment is riding on finding a reliable sticker guy. We're looking far and wide for the right person, but I know it'll happen soon enough. Ha...y'all been waiting long enough, huh? :P Well, there's another closely-related update to go along with Gin Gin's progress: Monster Kolor now has a brick-n-mortar shop! Located in Middleboro, MA, Monster Kolor Studios will bring the funk...as well as serve as a US-based factory for a whole lot of dangerous projects planned for the future. Stay tuned...and in fact, swing by for a visit and see the mighty Dead Presidents in person and in action!
As for LRGs, there's not a ton to report at the moment. My part in my the latest collaboration is over and now the project has moved into the mold-making phase. Masters are being meticulously sanded, glossed, and generally babied as we speak! More to come...
Okay, now for the hottest news (in my opinion!). Diaclone Powered Suits...ACTIVATE!! First up, though, some background on my custom Diaclone driver. In the tradition of the M18x Lady Command Microman figures, I whipped up a female Diaclone driver!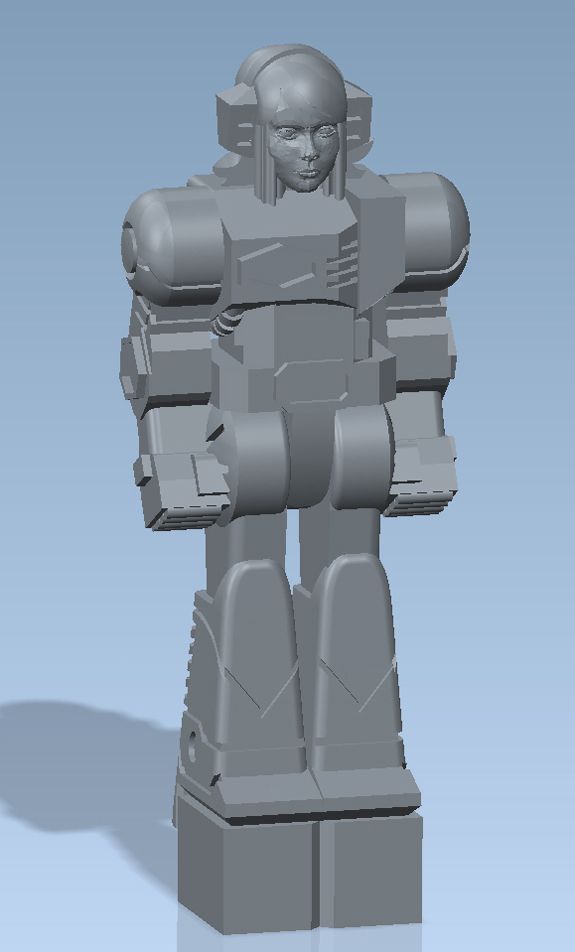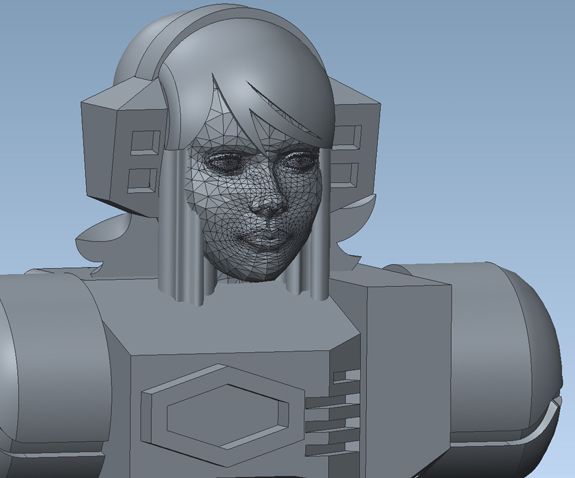 I am Micro Woman. Hear me roar!!
Her design was originally inspired by Samus Aran of Metroid fame, but I had to ditch her iconic ponytail because it extended too far back in the Powered Suit cockpit. What's a gal to do, right? Instead, I opted for more of a 60's Mary Tyler Moore-esque "flip" haircut. Much easier on the headrest inside the suit...
Anyway, hair notwithstanding, this is all pretty awesome in theory. But as it turns out, the actual printed figure is so fine that most of her details get lost in the translucent plastic! Still, I'd love to see one of these figures painted up by someone with wargaming-miniature-painting skills. Time to make some calls...
And now, onto the suit, itself!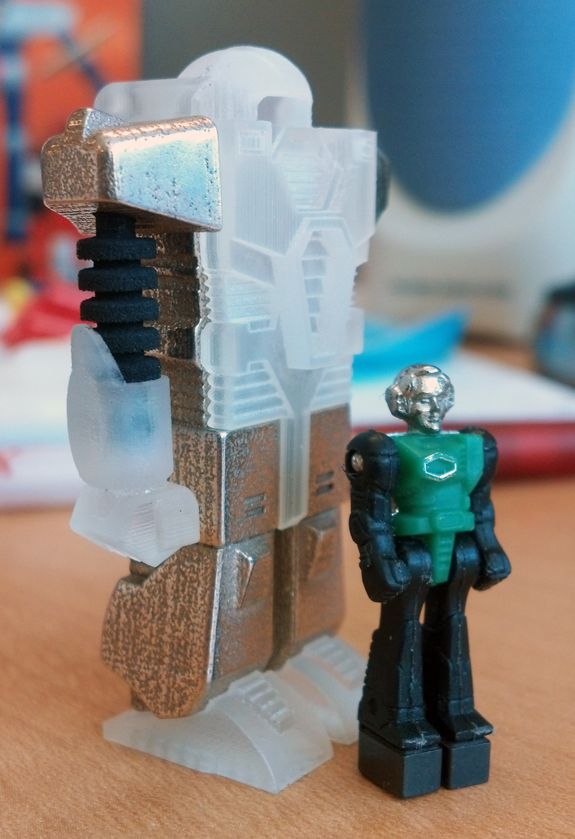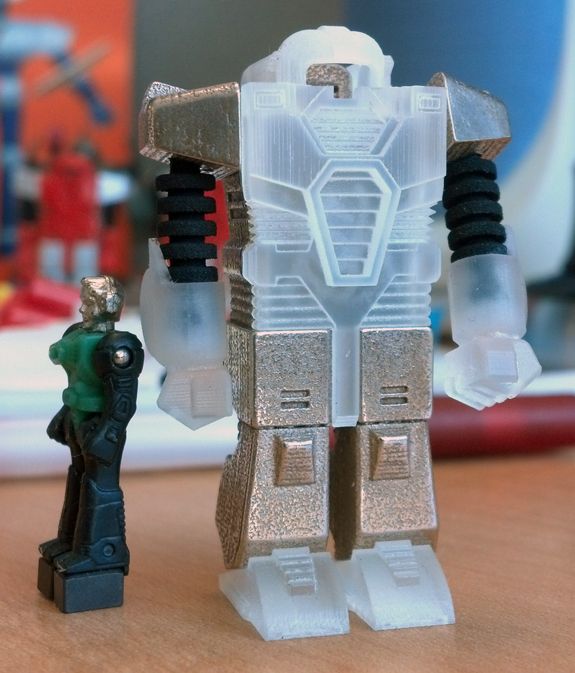 Please forgive the wobbly look of the upper arms--I didn't have any glue on hand to fix them into the shoulder pauldrons. But I gotta say, the suit's looking freshly dipped. The shoulder joints are straight *money*. The teeny magnets work perfectly. They can't support much weight, but they don't really have to. And because they're magnets, you know they'll never wear out like friction-based joints.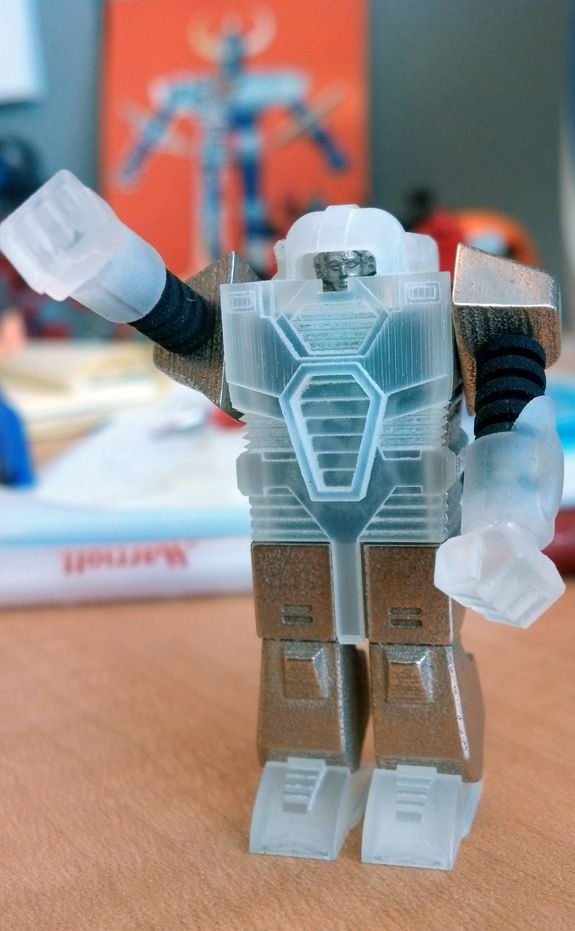 And as you can tell, the other nice upgrade over the original--the aligned viewport--is now just about perfect!
And finally, the shoulder mount for the weapon works pretty much without a hitch. I didn't take any pics, but the projectile just slides in and out...and fires perfectly from a stock type c weapon.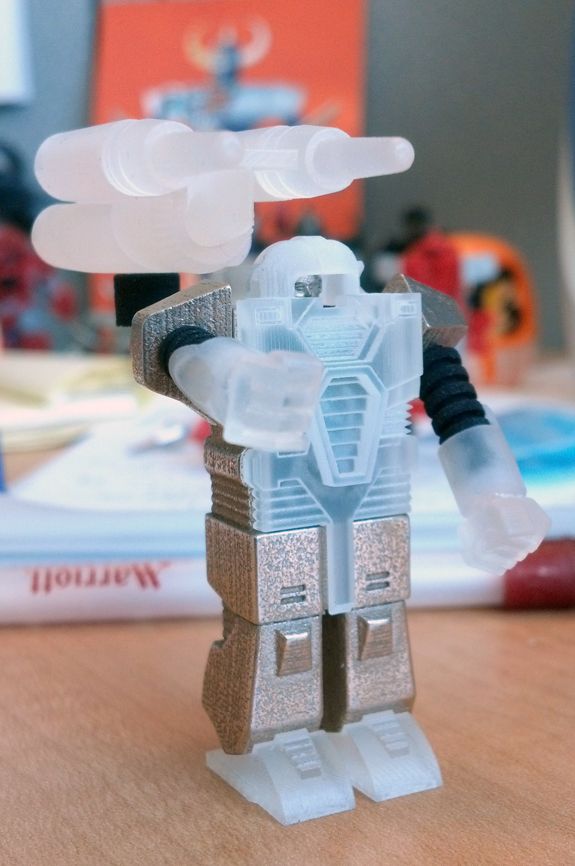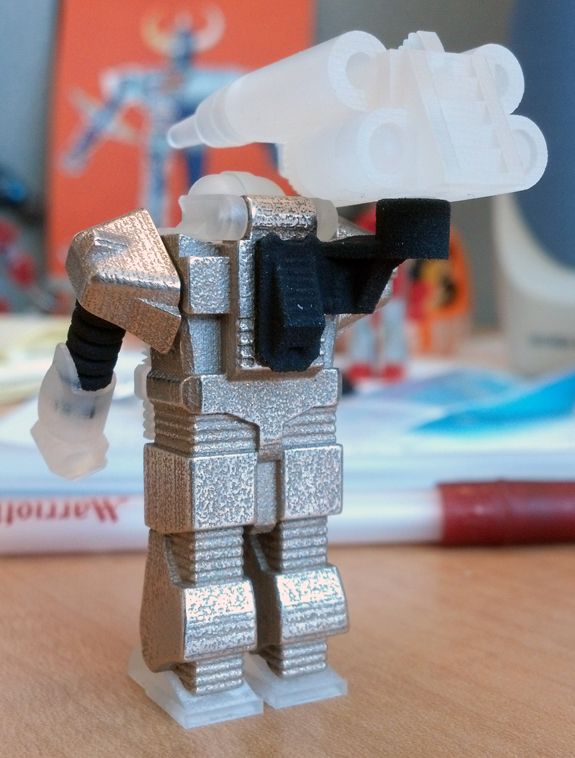 So I think I'm gonna do just one more run of all the parts just to be 100% sure of the fit and finish on everything. Once I'm completely satisfied with the design, I'll post it publicly with purchasing instructions (buy in kit form from Shapeways, then hit me up for the magnets). Hotter than sauce...