So last night, I got two
separate
packages from Shapeways. Yeah, I don't really get what the hell they're doing over there. UPS handles all their shipping, and since Shapeways seems like a small company, I guess it makes sense to step back and let UPS manage everything. But instead of, y'know, putting everything into
one fucking box
, they'll ship multiple items the size of a fucking thimble in separate boxes. Whatever, man...as long as the shit
gets here
, I guess I can't complain.
So anyway, just a couple news items this week--all stemming from printouts received. First of all, the Dairugger blazing sword prototype is looking mad tight with the
latest modifications
. Peep the images below [and again, sorry for the shittier and shittier photos...as my camera slowly makes its way across the river,
Sanzu
]. Oh, and just like before, I had to cut the blade off (and even hog out a bunch of material from the sides) because the shit's just too damn expensive.
Now, I just took a sharpie and scribbled all over different surfaces of the
menuki
(heh...a throwback from my
Japanese swordsmanship days
: menuki are hilt ornaments that function to improve your grip by providing a little extra ergonomic bulk for your hands). The result of the marker ink is pretty damn good, I think!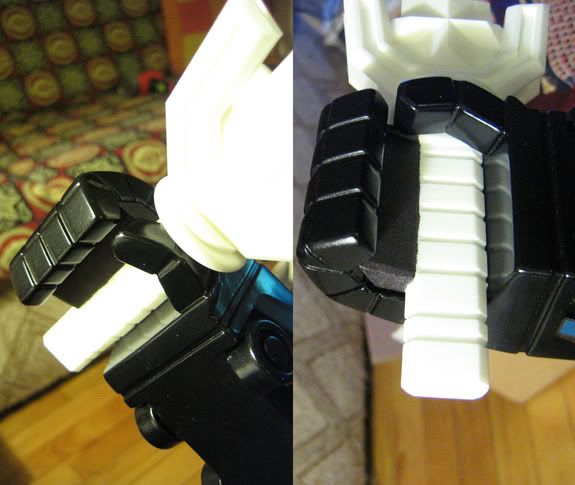 And just taking a step back, I think the scale and feel of the entire hilt is pretty
on point
.
And, of course, now the bad news: I just don't think this is gonna fucking work! The "white, strong, flexible" (WSF) material I printed this part in is already crazy-light, but it was
still
causing the arm to flop down at the shoulder. Can you imagine the
full-length sword
...done in a denser material?? I dunno. It's gonna be a tough one. We'll see what happens...
Anyway, next up is the "frosted ultra detail" (FUD; 3D Systems) AshuraShine. Yo, this shit is off the fucking hook!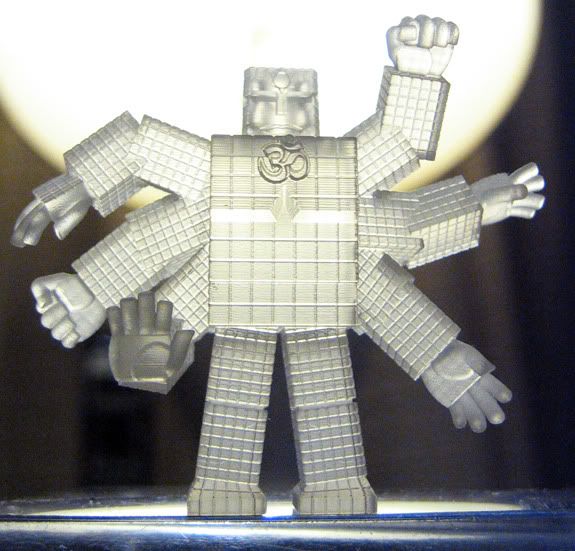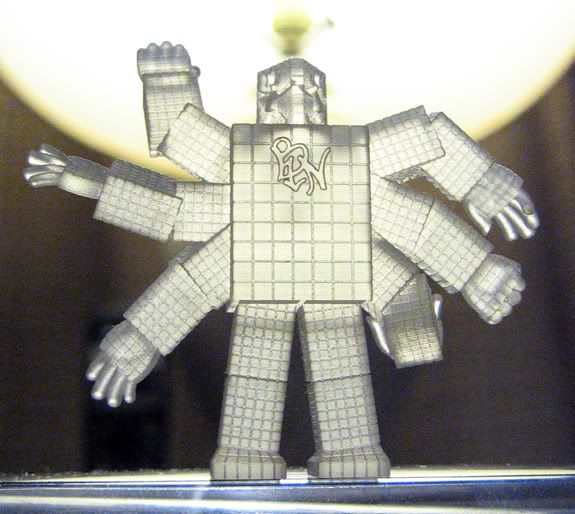 Keep in mind, the toy above is 1-3/4"!! You can just barely make out the layer striations on the upper chest (because there's a subtle non-vertical slope to that surface). Pretty fucking wild. I mean, just look at how damn SHARP that
Om and BN logo
came out! This shit is real-deal.
Click here
for a nice close-up.
And just for comparison, here's a "transparent detail" (TD; Objet) printout of the Gin Gin MUSCLE: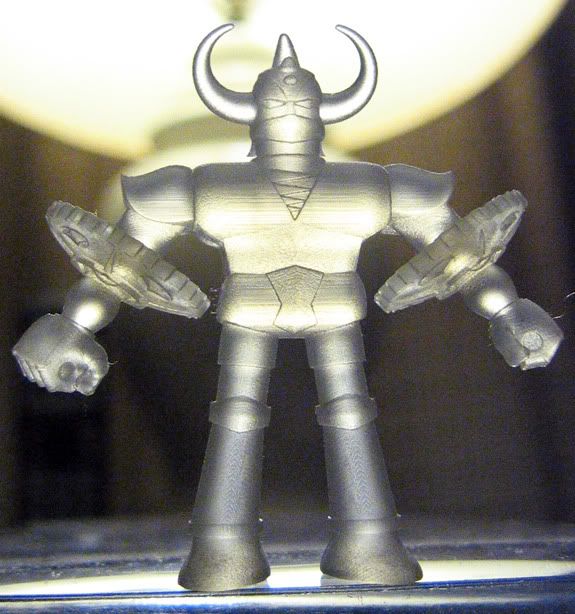 This is just about the best Objet print I've ever gotten from Shapeways. Unfortunately, I've gotten other "detail" parts from them that looked aiight...but felt like they were made out of used chewing gum. Pretty fucked up. I'm not sure what they're doing wrong. I presume there's some
post-processing step
they're skipping or just doing wrong. Most TD parts definitely have some weird "gunk" all over them--whether it's just a
slimy sheen
or some actual clay-like crap that you need to scrape off yourself (the Gin Gin above was mad slimy, but after about five minutes with soapy water and an old toothbrush, it was straight).
Well, either way, that Gin Gin looks like money, but you can sorta tell the striations are less consistent and the edges and details are a bit softer than on the AshuraShine.
Anyway, there'll probably be another
series of tweaks
on these MUSCLE CAD designs before going to final FUD printed prototypes. More soon!