Happy autumn, everybody! My favorite season, and certainly the most picturesque in New England. Well, there's all types of good stuff going on, and the past month has been pretty busy. Quiet...but busy. So let's get to it.
First off, the big news is that test-shots for Spinning Head Sunshine (the armor) and Spinshine (the core/top) are in! And DAMN if Alec hasn't outdone himself yet again. So most of y'all have seen two sets of pictures so far, right? First were the original CAD drawings, then there were the 3D prints last time (of Spinshine, anyway). Now, we've got final rubber castings...and I gotta tell ya--it never ceases to amaze me how spot-on they are to the original CAD models. Check this out!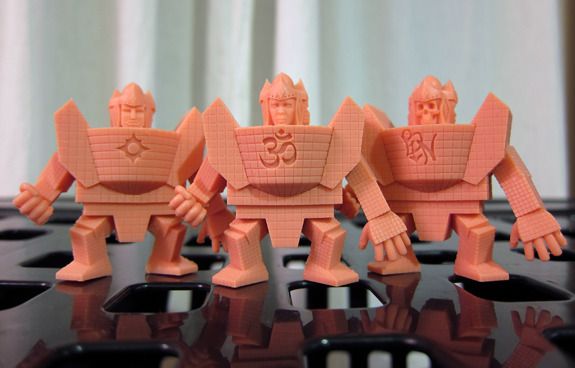 Alec is a master of his craft. It's simple as that. Look how dope these guys look! Well, first off, all three faces on Spinshine are super-crisp. Ashuraman would be proud.
And more importantly, Spinshine fits in the Spinning Head Sunshine (SHS) armor perfectly. Alec's rubber flexes nicely to accommodate the top, and the connection is nice and snug. I mean, that's not terribly impressive given that both toys were designed concurrently in CAD...but the big draw is obviously MUSCLE #195--also known as Sunshine F or "Spinning Top Sunshine"--being able to fit in the SHS armor.
Well, it works, damnit! It's not as seamless a fit as Spinshine, but that's because Sunshine F was sculpted by hand thirty years ago! Spinshine's geometrically perfect, with its precisely revolved geometry. When popped into the SHS armor, Sunshine F can feel a little awkward--it can vary from nice and snug to kinda loose and rattly just due to the inconsistent nature of the original sculpt. Still, it's not problematic because he's never in danger of being too fiddly...let alone falling out. The bottom line is that it works, and even if the seams are a bit more pronounced than on the Spinshine x SHS fit function, it still looks HOT!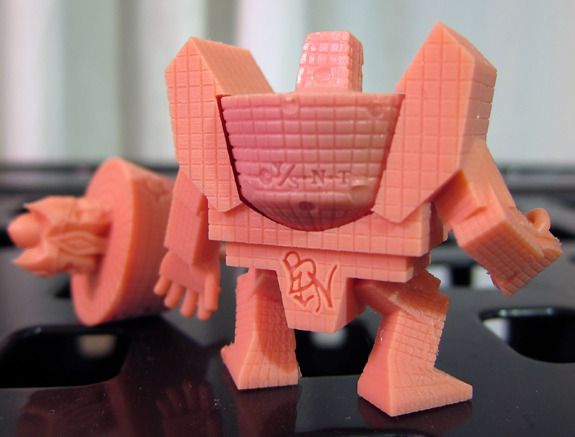 And, oh, the colors! Alec sent me a couple translucent-opaque mash-ups...and they'll melt your eyeballs. I've noticed that neon pink or orange details get kinda washed out in my photos, and purples can look a lot more blue than they're supposed to, but hell if I know how to fix that in my camera settings! But whatever...you get the idea. The figures are fantastic in person.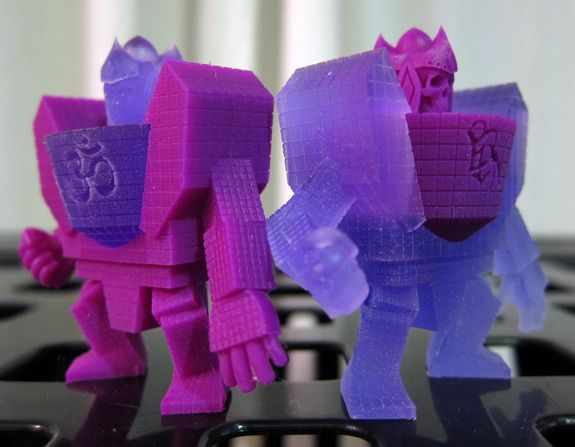 And that translucent rubber is legit. Add a little back-lighting, and these things become epic!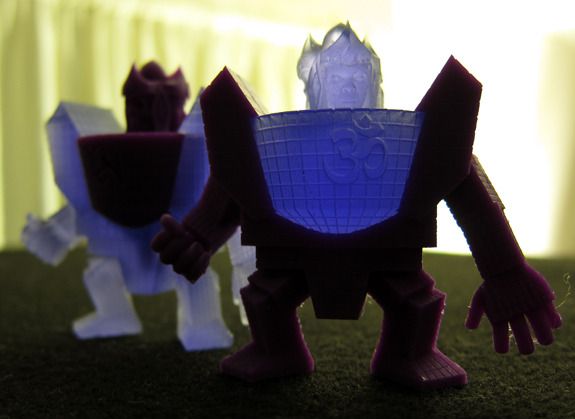 So here's how it's gonna work: I'll be establishing a list on MUSCLEThings.com for those interested in purchasing. The MT list gets priority...so if you want yours sooner, head over, register if you haven't, and post in that thread. Once the MT list is done, I'll serve anyone on LRG who may not have replied on MT. I decided to go this route to drive some traffic Alec's way and to make sure the custom minifigure-casting community there gets love.
As for the price, just like AshuraShine, it's gonna be $20 for either figure (Spinshine or SHS). They're gonna be bagged and sold separately, and once someone's name comes up on the list, they're gonna have the option to buy up to one of each (though I may extend that to up to two SHS armor figures if mad heads want one for their existing Sunshine F...AND one to go with the brand-new Spinshine--we'll see).
But let's not get ahead of ourselves! Even if they're production quality, these are only test-shots. Hell, I haven't even gotten started on the header card! :P Soon, though...I hope you guys get a chance to see how neat these figures are in person!
And as for AshuraShine, production may have slowed down for the summer, but we're back on. In fact, I've got a big pile of multi-colored ones on my floor right now!
There are less than a dozen folks still patiently waiting for these guys on the LRG thread/list, so I'm going to offer them a chance to buy one of these AshuraShines of color, rather than waiting for the next round of traditional pink ones. I figure that's fair for making 'em wait so damn long.
...
Aiight, enough with the MUSCLE-hustle for now. Let's switch gears back to robutts for some quick Gin Gin updates.
First off, I need to get something off my chest. I unwrapped something that made my brain explode last night. Most of the fellas interested in 3D-modeling/printing over at TBDX have known that print shops like Shapeways have offered stainless steel printing for some time now. I guess the perception for a while has been...why bother? I mean, SLA processes offer FAR better resolution and general surface quality...and SLS offers light, durable plastics for more structural applications. Oh, and both SLA and SLS are *vastly* cheaper. Well, at this year's East Coast Chogokin Summit, I got a chance to see steel-printed minis from Roger Harkavy and from Ben of Prometheus Rising Studios. They were pretty damn neat, so I said "what the hell"...
Holy crap...on a crap cracker. Mind = Blown.
Baby Gin Gin...in all his 1-3/4" glory...rendered in indestructible stainless steel. I unwrapped this guy last night, and I simply haven't been able to put him down since. It's THAT awesome. Weighing in at 1.3 ounces, he's actually pretty damn hefty for his diminutiveness. And even if I squeeze (with just my fingers--no wrenches or other tools!) those tiny horns with all my might, I can't make 'em budge. Of course, I could see a shelf-dive potentially taking out a horn just given the weight of the figure and the momentum from a fall.
But just check out the finish. Pretty wild! The resolution is not nearly as bad as I thought it'd be--most of the surface features came out shockingly well. The issue, of course, is the finish. The layers are pretty clearly visible and there's that pitted texture. But I'll tell ya: the resolution of these photos tends to enhance the flaws. The figure is TINY...compared to the hugeness of these macro shots. In hand, this lil guy looks and feels great. The star emblems on the shields make me squeal like a little girl!
The figure stands super-firmly on the ground with no wobble whatsoever, but what was interesting to notice (see above) was that the bottom of his right foot is almost mirror-polished, while the left foot has the same pitted texture as the rest of the figure. I wonder if that's because the bronze was infused via the right foot (see Shapeways' page on stainless steel printing here...it's actually pretty neat), and thus needed to be machined clean after the process.
Anyway, I'm definitely printing more of these guys. Then again, at over $40 a whack...not TOO many more... ;)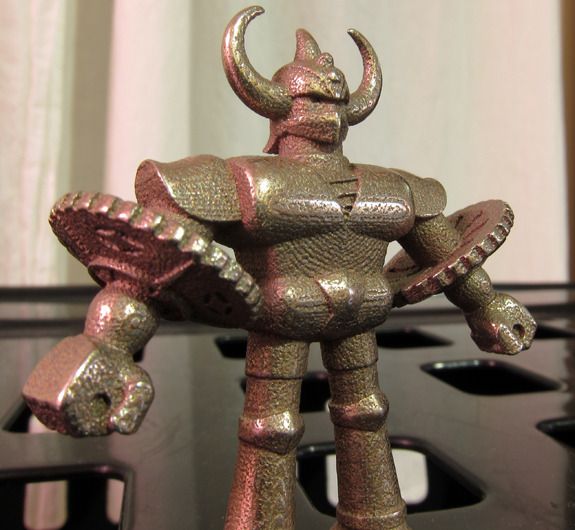 And as for the Foe Gokin version of Gin Gin, we're making some good progress this week. I'm meeting up with paint-maestro, Matt Walker, to continue our paint color discussions. Also, I've officially fired the print shop who was handling the Foe Gokin slipcases. I'm praying to Aron Ra that the new shop I'm going with doesn't bend me over like the previous one...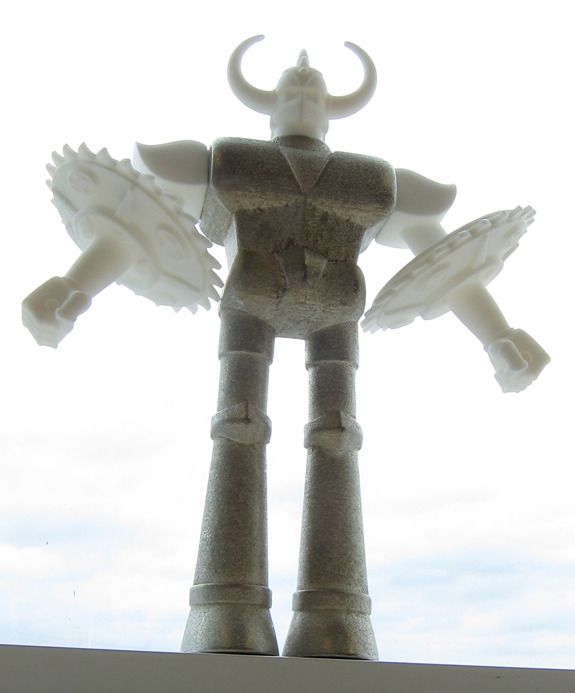 Anyway, I've shown y'all the latest 3D print of the body, in polished alumide, but this is actually the first time anyone but Walker has seen the actual pewter casting from the print! All I can say is that it's tight. The geometry is much sharper than ever before because of alumide's ability to withstand high temperatures. Alumide's only weakness is the rough surface texture...but in the final castings, it turns out it's not too bad:
That Monster Kolor paint should have no trouble smoothing out those tiny surface pits. Also, if you notice above, we're trying something a bit different with the star marks on the shield. I think it looks a little better--more star-like?--and it shouldn't be tough to hand-paint.
That's it for this month, folks! Til next time...